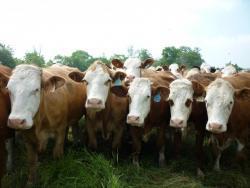 Beef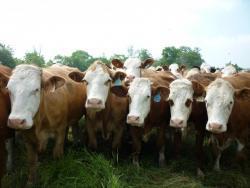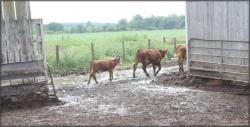 Here's a picture of the cow herd taken in June 2011. Grazing is a very important part of their diet. They generally leave the barn in April or May and they return in late September to avoid their being mistaken for deer during the hunting season. Since 1998 there has been no growth hormones used on the herd. This is a closed herd of cattle, meaning that calves raised for beef come from the cows here. We do not buy in cattle from other sources and most of their food is grown  on my farm under my management, the only exception is the spent grains fed to the finishing pen which come from the Refined Fool in Sarnia. This enables us to ensure quality control of our beef. The beef calves are fed a forage heavy diet with some corn and spent grains to help fatten them. Over the course of their lives, each calf will consume an average of about 5 lbs/day, substantially less than a corn fed ration.
Prices (As of October 25, 2017)
Half or Quarter (Half of Half) $3.85/lb cut, wrapped and delivered (within 100 km of Oil Springs)
Eighth $3.95/lb
BBQ Pack $120
4 packages of an assortment of steak (approximately 8 lbs total of TBones, Rib steak, Sirloin Steak and Chuck Steak)
10 lbs ground beef
Sampler $145
2 4-5 lb roasts
2 pkg of steaks
10lbs ground beef
Small Sampler $100
1 roast
2 pkgs of steak
8 lbs of ground beef
Individual cuts
T Bone steak $25/pkg
Rib Steak      $22/pkg
Each package has 2 steaks in it.
Sirloin Steak  $22/ 2lb steak
Ground beef    $5/lb
Hamburger sleeve (1/4 lb, 20 patties) $30
Box of burgers (1/4 lb, 40 patties) $55 one remaining!!
Beef Sausage (5/1lb package) $5.50
Ribs (approx. 2lbs) $18
Delivery of packages is free to Lambton and Kent Counties