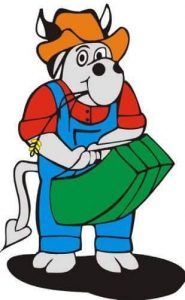 Welcome to Dickenson Farms
Dickenson Farms is a family farm located between Oil Springs and Brigden, ON. We are proud supporters of the Junior Farmers' Association of Ontario, members of the Moore Agricultural Society and supporters and participants on the Locally Lambton map that showcases farmgate sales of food and attractions in Lambton County.
When you are looking to cut your environmental footprint, anything you can do to minimize transportation will help to that end. My philosophy is to manage quality of product through production. The only non farm produced inputs are minerals (to offset deficiencies in the soil) and brewer's grain from the Refined Fool, a microbrewery in Sarnia. This enables me to control the quality of the feed that my animals consume and minimizes the trucking that happens from site to site. The beef operation is located 10 miles south of the primary  abbatoir. The beef operation uses extensive pasture management so that the beef herd (the cows and their calves) are not fed anything but well managed grass during the growing season until there is no grass available. This ensures Carbon sequestration, no fossil fuel usage for that feed and a natural, consistent approach. The cattle are bred to produce enough milk to raise a calf and those calves will stay with their mom until they are almost a year old. Unlike industry standard, they are not fed creep feed and do not see grains until after they are weaned. Any questions, feel free to ask.
Sincerely,
Joe Dickenson
Dickenson Farms